Frequently Asked Questions
What would happen if I registered two codes in the same account. Would I get double amount of rewards?
You can register codes to the same account and receive double the discounts.
Register both with the same email address and password.
You will see when you are logged in, that you will be able to toggle from one membership to the other.
Mobile App
Is the Mobile App free?
Yes!
Can it only be registered to one phone? I would like to register our card to my _____'s phone as well.
You can access your membership from multiple phones.
You would simply share the same login information and know that if one uses a specific offer that the other will find that the offer has been used.
Can I change my postal/zip code when I am in other locations?
You can change the postal/zip code any time you would like.
When you are logged into the app on the bottom bar there is a "search" button…once you click that a bar will pop up for you to change the postal/zip code and city.
Mobile Coupons
Why do some coupons say 'screen cannot be used for coupon'?
When the screen says "this screen can not be shown as a valid coupon" that is because that screen is just outlining what the offer is, the business address and the terms of the offer. The actual coupon comes up once you click either the "Print" or the "Redeem" button.
How do I know which coupons I can redeem from my mobile device?
Beside the business name there will be a phone icon which lets you know which offers can be redeemed on your mobile device.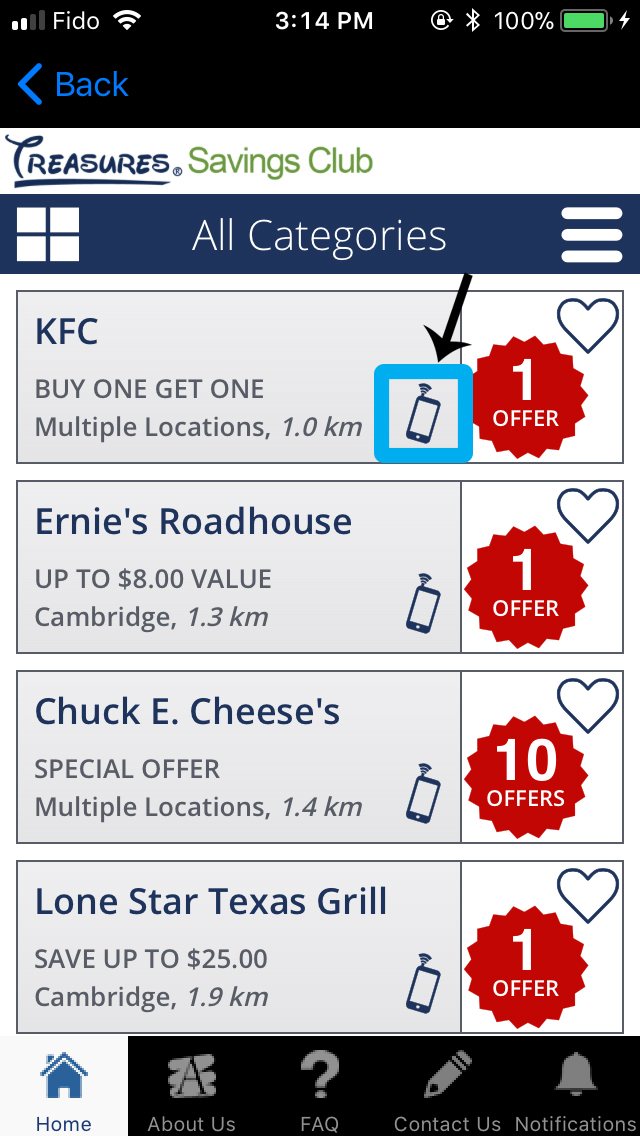 How do I redeem an offer from my mobile device?
Once you click the offer if you scroll down you will see a blue button that says "Redeem" with a phone icon. You can click that button once you are at the business to redeem the offer on your mobile device, you do not print the offers that you are redeeming on your mobile device.
Can I still print the same coupon from my desktop computer?
Once you redeem your mobile coupon you cannot print the same offer on your desktop computer unless that specific offer can be redeemed multiple times
Printable Coupons
I printed out a coupon but it never printed and now I cannot redeem it.
Please email customerservice@sweet-rewards.com with your email and which coupon failed to print
What should I do before I print?
Load your printer with paper.
Make sure your printer is turned on.
More than one printer?
Select the correct printer during "Printer Selection".
Still having troubles, Contact us at 289-284-1166.
When do online coupons expire?
Online coupons expire 14 days after printing.
Are there rules for Printable Coupons?
Yes, each printable coupon clearly states the "Rules Of Use" for each merchant.
More Questions?
More questions regarding your Savings Membership?
Contact us at... 289-284-1166.